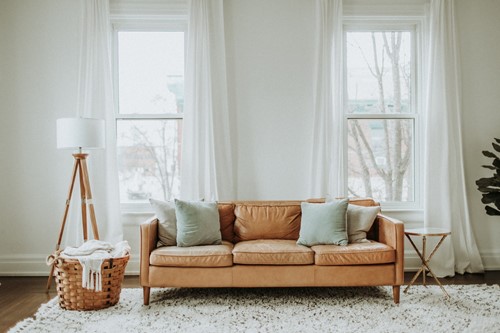 The right window treatments can add personality and depth to any room. No matter the size or amount of windows in a space, curtains are a key part of your interior design and personal style. If you're wanting to refresh the look of your living room with new curtains, here are some great ideas to inspire you:
Matching Monotones
If you have mostly neutral tones in your living room, consider carrying them through with the curtains. You can create depth even with a monotone color scheme by choosing a simple pattern for the curtains that will complement the rest of the decor. Keeping the colors uniform will keep prints from looking too busy.
Perfect Patterns
Don't be afraid to use patterned curtains. As long as you choose the correct scale and type of pattern for your window dressings, you'll add to the room rather than compete with it. Some excellent examples of patterns to try are large-scale gingham, chevrons and wide stripes. For floor-to-ceiling windows, opt for larger prints. Smaller windows are better suited for detailed patterns as the design won't disappear in the amount of extra fabric.
Statement Shades
Curtains are an easy way to add a pop of statement color to your living room. If there is a bold new color that you have been wanting to try adding into your decor, use window dressings as a starting point. Some trending curtain colors include emerald green and coral. Choose a color that you can carry throughout the room's design with some smaller pieces to make the choice cohesive.
Sheer Layers
Pleated sheer curtains are a romantic classic, especially when layered. To maximize natural light and create an airy sense of calm in your living room, opt for multiple layers of sheer curtains. Chiffon panels are an excellent choice and soften the look of any room, no matter the size and shape of the windows.
Accordion Folds
While considered dated by some designers, accordion folded curtains are making a comeback in contemporary design. Hanging curtains in this style works especially well for bold statement patterns and unique textures. You can go with bright colors or stay neutral and enjoy the classic depth the folding creates. Try this look if you have tall, thin windows to balance them out and indulge in this trend.